A useful set of three little face treats for happy, hydrated skin. Expertly curated for anyone new to Go-To (welcome!), this powerful trio of skin essentials is the perfect skintroduction to our peachy products.
Featuring teeny adorable versions of Go-To's bestsellers:
Our gentle cleansing mousse, Properly Clean (30mL)
Our ultra nourishing face oil, Face Hero (10mL)
Our antioxidant-loaded moisturiser, Very Useful Face Cream (20mL)
The Skintroduction is ideal for skincare beginners, the Go-To-curious, or anyone who just wants healthy, calm skin. Think of it like a first date for your face!

Obsessed!
I bought these for my bridesmaids who already use Go To products but didn't have the mini's. Perfect for an overnight toiletry bag. Makes a great gift!
Skintroduction
Great introduction to Go-To skincare. The products all smell amazing and work really well. Face Hero is my personal favourite. I love the way my skin looks and feels with these products and will continue to be a Go-To customer. Thank you.
10/10 Intro Set
This was the best intro to Go-To! Great size to try these products out and make sure they suit my skin before going all in with the full size products. My skin was feeling and looking better in just a week using this set! Now they're great to have as refillable travel containers too!
Read More Reviews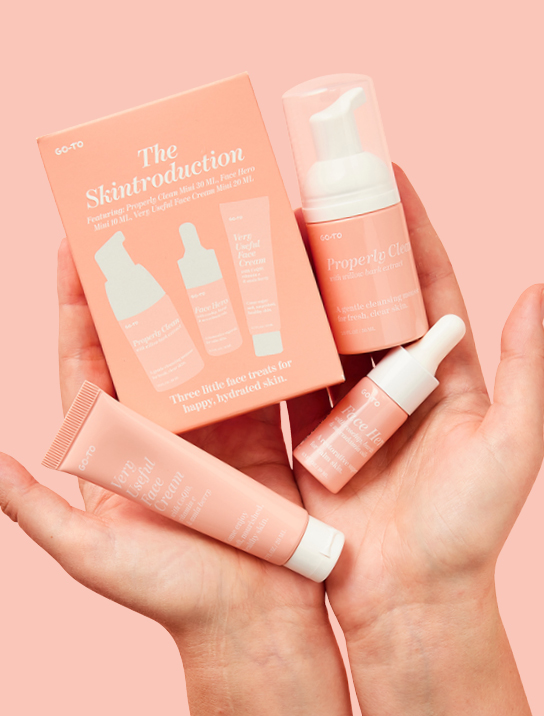 The Skincare Starter Guide
A guide made especially for all kinds of skincare rookies. Welcome! Here's a few (easy, I promise) rules to help you seamlessly incorporate your new skin mates into your life.
Read More
Your AM or PM Routine!
Cleanse your face with Properly Clean and rinse.
Take three to five drops of Face Hero and massage gently into the face, neck and chest.
Finish with a pea-sized (wasabi, specifically) amount of Very Useful Face Cream.
Scrolly Molly do we love Instagram.
@gotoskincare