An absurdly nice-smelling body bar created to give your body a real thorough cleanse without any tight, uncomfortable feeling.
This very sustainable, very adorable body bar is made with hydrating glycerin, calming chamomile flower extract, and clarifying red clay to leave skin fresh, soft, and seriously clean.
And thanks to the dazzling combination of natural fragrances (orange, geranium, lime, grapefruit, petitgrain, spearmint, basil, and ylang ylang) this lush body bar will make you and your shower feel/smell magnificent.
It's good for the planet, great for your skin, and outstanding as a gift, should you be so generous.
Love it!
Love the smell, love the lather and love the size. It's lasting quite a while too, the bar lathers nicely without disintegrating. Treat yourself to some fancy soap!
Lush!
Looks delicious, smells delicious, feels delicious… need I say more! The same signature fragrances we're used to from Go-To in a non-drying bar, perfect for a good lather post beach to get the salt and sunscreen off :) love it!
Sensitive skin friendly!
Smells great and doesn't upset my sensitive skin! I tried a bunch of 'sensitive' body washes before this and they all made my skin itchy, but it has finally calmed down with VNBB! The bar format is easy to use and feels less wasteful than a bottle, hope it stays in stock so I don't have to use anything else!
Read More Reviews
Sodium cocoate, glycerin, natural fragrance (contains orange, brazilian, geranium, bourbon, lime, grapefruit, petitgrain, spearmint, basil, bergamot, ylang ylang oils), chamomile flower extract, red clay.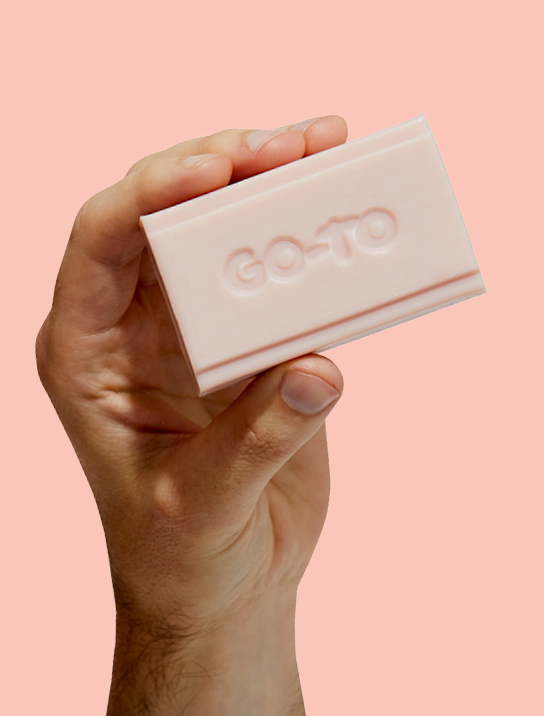 Glycerin
A 100% plant-derived ingredient that is an excellent humectant, reducing moisture loss by holding water within the surface layers of the skin to prevent skin from drying out.
Chamomile Flower Extract
A 100% plant-derived extract which is known to have calming and soothing properties.  
Red Clay
An Australian clay rich in iron (a trace element), essential for good skin health.
Your AM or PM Routine!
Use Very Nourishing Body Bar to give your body a real good clean when you're in the shower. Follow with a hydrating body lotion or body oil for super soft skin all over.
Scrolly Molly do we love Instagram.
@gotoskincare